Borderland Co-op to Build New Food Store
Actions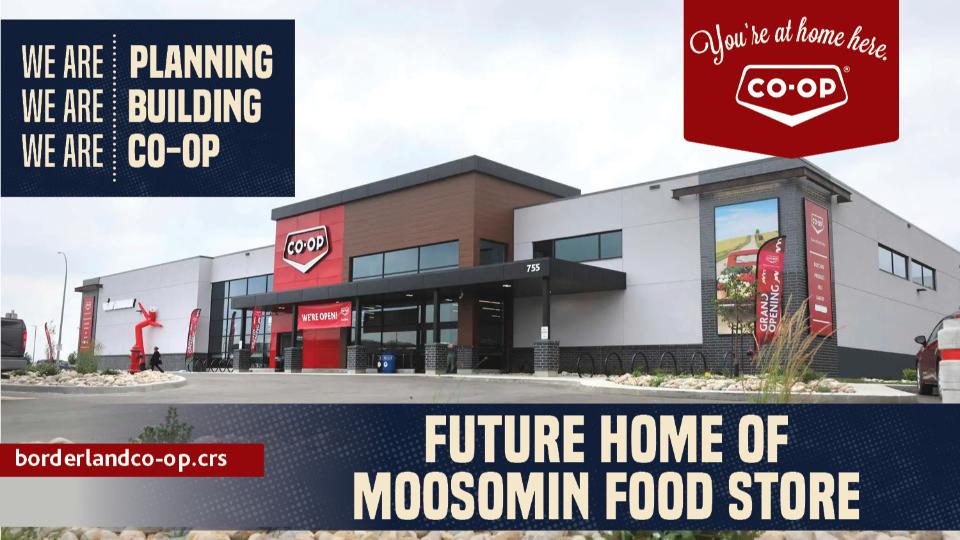 Borderland Co-op to Build New Food Store
October 16, 2023
Borderland Co-op Admin, SK. Oct. 16, 2023: Following many years of planning and disruption by the Covid pandemic, the Board of Director's is pleased to announce that construction on a new Food Store in Moosomin will commence this fall following final municipal permit approvals.

The new 30,000 square foot facility will be built on the existing site facing Gordon St. and will feature a larger sales floor with more variety in all categories, new product programs and larger production areas to enable us to add in-house produced products at all our food stores across the Borderland geography. This combined with daily delivery cycles to all locations (currently being piloted in Rocanville) will give members in all communities' access to the entire selection of dry and fresh food products Borderland has to offer.
"Our goal with this project is to not only replace an aging asset that has become too small for the demand, but also use it as a tool to enhance what we can offer in all of our food stores" said Board President Lawrence Swanson. "We now have technology tools that we have never had before, like click and collect, that opens up the possibility to give our members access to our entire catalogue of product delivered to their home Borderland Food Store."
Jason Schenn, CEO sees this project as a key piece in maintaining operational stability with a workforce that is changing. "It is a reality that specialized skills in all production areas are difficult to recruit in rural communities. Many young people are not pursuing careers in the food trade like meat cutting, baking and commercial cooking. Those that do are attracted to larger urban centers for various reasons. The capability for us to do centralized production in a larger location with a larger population base gives us the ability to consistently supply in house produced items in all our Food Stores and support smaller locations when key positions are vacant."
Construction is expected to last 12-14 months during which time onsite parking will be limited. "Our Food Ops team has developed a Member Care plan to minimize disruption during construction. This will include click and collect (online order with pickup or delivery), shuttling to and from off-site parking and enhanced carryout support." COO Jeff Haubrich said about the upcoming project.
Borderland Co-op operates 6 Food Stores in the communities of Moosomin, Rocanville, Kipling, Whitewood, Broadview and Grenfell.
For More Information, Contact:
Jason Schenn
CEO
O: 306-435-4655
C: 306-434-7344
E: jason.schenn@borderland.crs
Lawrence Swanson
President
C: 306-735-7649 lawrence.swanson@borderland.crs

There are no featured stories at this time.