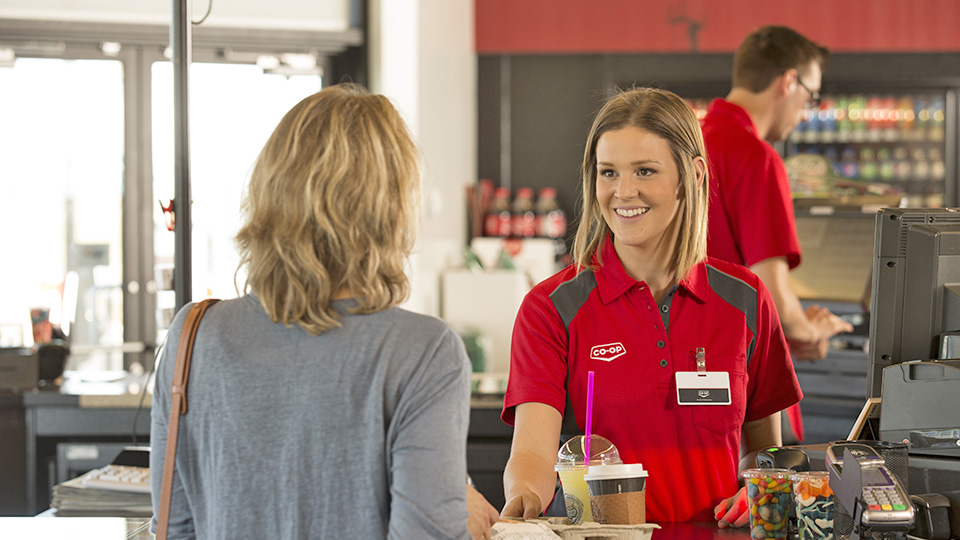 Co-op Fuel & Convenience
January 28, 2019
Your local Co-op is equipped to service your fuel and convenience needs, offering competitive pricing and exceptional customer service.
Gas Bar
Whether you are looking for full- or self-serve, your local Co-op offers high-performance fuels at competitive pricing.
Convenience Store
Our convenience stores offer a wide selection of confectionary and convenience items. Grab a hot fresh Van Houtte coffee or a cold drink for the road. If you're after a fresh deli sandwich our Moosomin convenience store has got you covered. Fresh Deli sandwiches are brought in daily from our Marketplace Deli department. Our hot Roller Grill. For a quick on-the-go breakfast we offer hot fresh Jimmy Deans Breakfast Sandwiches in our Moosomin & Whitewood convenience stores.
On the way to a Rider game and need some gear or looking for a gift for the ultimate Rider fan? Our Moosomin convenience store is stocked with a wide range of Rider gear and apparel. Look for our Manager's Specials!
If you need to take a break from the road you can sit back and relax in our Traveller's Lounge in both Moosomin and Whitewood where we offer you a comfortable sitting area, laundry services, payphone, free Wi-Fi, snack and convenience items in our vending machines and complimentary showers. Our Traveller's Lounge is also accessible outside of store hours with your Co-op Cardlock card.
Whether you're leaving on the road, coming home or mid trip, you'll feel at home at Borderland Co-op.
Car Wash
All year round you can clean and freshen up your vehicle at Moosomin's Gas Bar/Convenience Store with our Touch Less Carwash. Our Touch Less Carwash uses premium Turtle Wax products to ensure your vehicle comes out sparkling clean!
We offer you 4 different wash packages, each giving you a great wash. You can choose from a Regular, Premium or Extreme Carwash for your daily vehicle needs. If your vehicle needs that extra special attention we also offer a new Platinum wash package that gives you an additional soap and rinse cycle to eliminate any tough built up soils.
Not sure about which wash to choose? Be sure to ask one of our knowledgeable team members and we will gladly explain the differences to you.
Don't forget if you purchase fuel from our Gas Bar and you will receive a discount on your carwash. If you have someone who is hard to buy for in your life, we now offer carwash gift cards.
Just pull in, park and sit back while your vehicle gets the treatment it deserves at Borderland Co-op.
Moosomin Convenience Store Update
We are currently undergoing renovations at our Moosomin location due to this the showers are unavailable. The showers at our Whitewood location showers remain open. We apologize for any inconvenience this might cause.

Discover more:
There are no featured stories at this time.