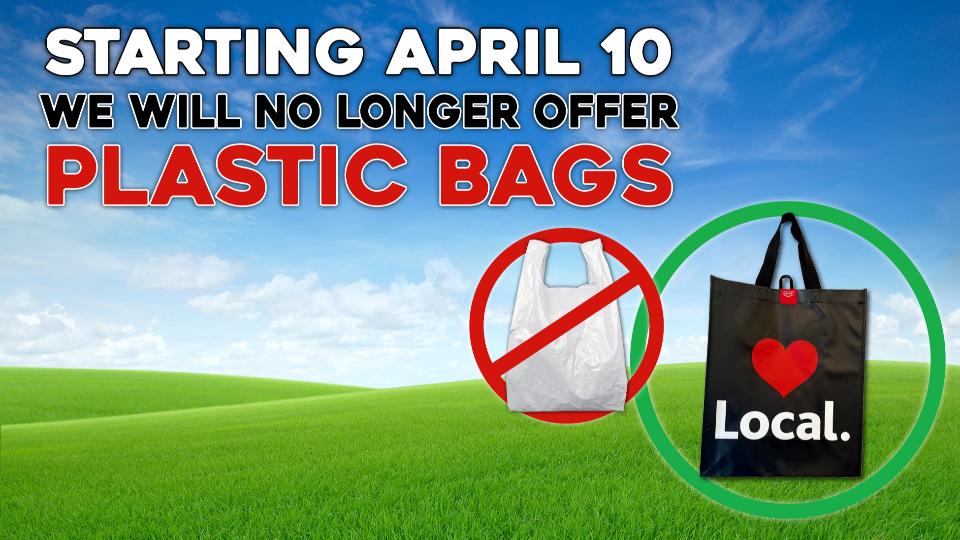 REMOVAL OF PLASTIC BAGS
March 29, 2023
REMOVAL OF PLASTIC BAGS

The federal government has put in place dates when problematic single use plastics, including plastic check stand bags will be eliminated. Our supplier will cease selling plastic checkout bags in April 2023.
On April 10th, 2023, we will offer one FREE reusable bag per customer.
From April 10th - April 30th, we will be selling our Co-op branded reusable bags at a discounted 50% off regular price.
WHAT PLASTIC BAGS ARE BANNED?
Shopping bags made from any plastic under 70 microns in thickness, either new or unused, with handles.
Banned bags cannot be given away or sold to customers for carrying home their sold goods.
You can still buy pet waste bags and bin liners.
Lightweight barrier bags (ie: for perishable items like meat or fresh produce) are not included in the ban.
WHY CAN'T YOU SUPPLY BIODEGRADABLE OR COMPOSTABLE BAGS INSTEAD?
The Government has also banned biodegradable and compostable bags under 70 microns in thickness. This ban is because they can be as harmful to nature as non-biodegradable plastics. Canada doesn't have enough facilities to break down biodegradable and compostable bags completely.
SCOPE OF THE REGULATIONS
The Regulations prohibit the manufacture, import, and sale of 6 categories of single-use plastics:
Plastic grocery bags
Cutlery includes: knives, forks, spoons, sporks, chopsticks
Food service ware designed for serving or transporting ready-to-consume food or beverages,
and that contains:
expanded polystyrene foam
extruded polystyrene foam
polyvinyl chloride
carbon black
An oxo-degradable plastic
are limited to the following items:
• clamshell containers
• lidded containers
• boxes
• cups, plates, bowls
Ring carriers are flexible and designed to surround beverage containers in order to carry them together.
Stir sticks designed to stir or mix beverages, or to prevent a beverage from spilling from the lid of its container.
Straws: straight drinking straws, and flexible straws, which have a corrugated section that allows the straw to bend, packaged with beverage containers (juice boxes and pouches)
The Regulations do not apply to plastic manufactured items that are waste or transiting through Canada. Any person who manufactures, imports or sells (including to provide free of charge) any of the 6 categories of single-use plastics listed above is subject to the Regulations.
There are no featured stories at this time.